Retail banking is adopted by all banks as business model due to many factors that work well for the banks such as huge customer base, better pricing and profitability, better risk proposition etc. Retail banking in India has grown at a tremendous rate and we are discussing just that in this article.
Retail Banking in India
The evolution of retail banking industry in India can be traced back to the time of entry of foreign banks. The conventional banking business was carried on by Public Sector Banks[1] on a more generalized approach and there wasn't any specific demarcation.
Customer and industry segmentation was adopted in the business plan of banks. There was no attempt to offer products and services based on specific customer segments in a focussed way.
The entry of private sector banks in early 90s created a new approach to retail banking by banks. They had the advantage of technology right from the start. These banks had a clear mind with retail banking and aggressively strategized for creating new markets for the retail part.
India prepared for the IT revolution that impacted the banking sector. It created a need for Private sector banks as well as Public Sector Banks to adopt core banking system. It led to organized and comprehensive computerization of operations of banks.
Later on India witnessed the adoption of modern payments systems, securities settlement, electronic funds transfer, cheque truncation system, ATMs and many other modern methods of banking.
Role of IT (Information Technology) in retail banking
The growth of IT and its remarkable application to banking has greatly facilitated the growth and development of retail banking in India to a large extent. At the time of introduction of banking sector reforms, public sector banks were slightly ahead as they had a wide network of physical branches in urban and rural areas.
With a view to compete with public sector banks, private banks and foreign banks adopted IT as a tool in their expansion drive. The success rate in retail banking is measured with the volume of customer base and IT has allowed banks to reach and serve a huge number of customers in a short time and reduce the cost of banking transactions.
IT has allowed the integration of ATMs, mobile banking and internet banking such that banking transactions are reflected regardless of any medium of convenience used by customers.
Retail Banking in India: Service offered by banks
The induction of modern banking technology has caused a dramatic transformation in the functioning and operation of retail banks. The banks have used these technologies to best of their advantage to reach out to clients, to know customer behaviour, increase productivity, increase sales and manage money.
Here are a few retail banking services and solutions offered by banks:
This a form of bank account that can be opened by customers, providing services like depositing money and obtaining interest on it.
Other terms used to refer this form of bank account include checking account, transaction account and demand deposit account. An account holder can make frequent transactions through it.
Debit cards and Credit Cards
These plastic cards can be used to make payments without the need of carrying cash with you. In case of credit card one can make payment on credit with a promise to pay the bank the amount which is spent.
Banks lend money to their customers and loans in India through retail banks include home loans, auto loans for new or used vehicles, education loans etc.
What are the advantages of Retail Banking in India?
The advantages of retail banking are as follows: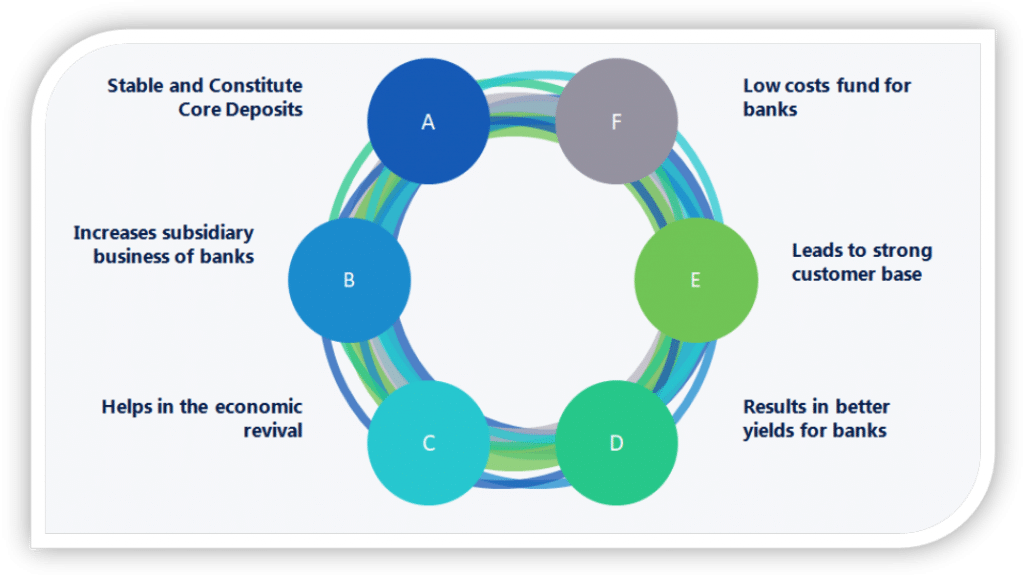 The retail deposits are stable and constitute core deposits;
They constitute low cost funds for banks;
An effective customer relationship management (CRM) with retail customers builds a strong base;
It increases the subsidiary business of banks;
It causes better yield and better bottom line for banks;
Retail banking help in the economic revival of the nation through increase in production activity; and
It involves minimum marketing efforts in a demand driven economy.
The retail banking trends and its scope in India
As stated earlier, banking industry has gone through a major revolution in the last few years. With the rise in competition, the IT revolution, the emergence of Fintech and non-financial services, and evolving customer expectations has called for adoption of new strategies and techniques from banks.
Banks are progressing towards the path of digital transformation that promises better customer experience, lower operating costs, and reduced costs for banking transactions. Meanwhile, internet and mobile banking are the rapidly emerging trends in this sector.
Use of AI and voice assistants to provide personalized and contextualized services are technologically forward innovations and it is expected to change the face of banking systems. With biometric technology and KYC, system expect more secure banking system.